Bikes for District Nurses.
The District Nurse.
Available on YouTube at
The English Village Green.
"When I Grow Too Old To Dream".
Sung by Very Lynn.
Available on YouTube at
Igtham Mote, Kent.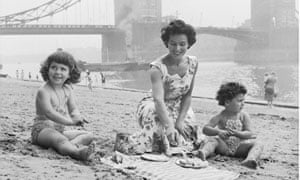 London-on-Sea: A mother and her two children enjoy a beach picnic on the River Thames, near Tower Bridge, London, in 1955. Photograph: John Drysdale/Getty Images.
Terry's Confectionery Shop,
York, England.
This royal throne of kings, this sceptred isle,
This earth of majesty, this seat of Mars,
This other Eden, demi-paradise,
This fortress built by Nature for herself
Against infection and the hand of war,
This happy breed of men, this little world,
This precious stone set in the silver sea,
Which serves it in the office of a wall
Or as a moat defensive to a house,
Against the envy of less happier lands,--
This blessed plot, this earth, this realm,
this England.
Greatest English dramatist & poet (1564 - 1616).
"Land of Hope and Glory".
Sung by Vera Lynn.
Available on YouTube at